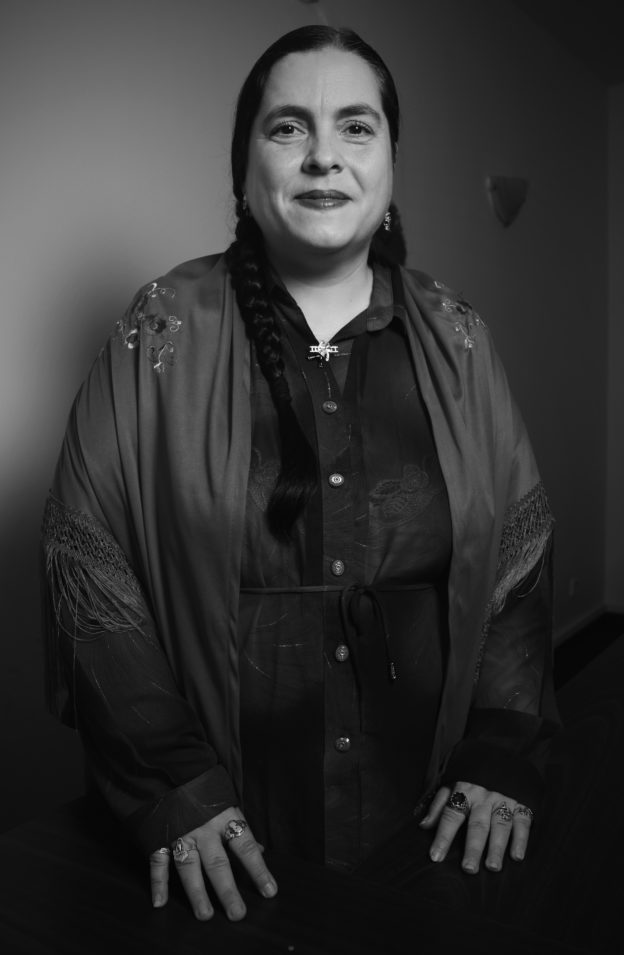 Narrative by Mary Evelyn Porter
Opre Roma!

Rrom sam, Devla, ci meras:
Rrom, rromni ai ol chave
Amaro drom na mukhas,
Amaro Rromanipe!
Amari baht lachiaras,
Amaro sikliaripe:
O ciacipe t-arakhas
Ol phure ai ol terne!

Not man, not wife, nor child
Our way we never leave,
Our Romani way
Our destiny we shape,
Our principle:
To seek out truth
The elder and the youth!

Opre Roma! Lyrics by Delia Grigore. Recorded by Mahala Rai Banda on the album Romani Kultura.

Delia Grigore was born in 1972 in Galaţi, a port city on the Danube in Eastern Romania. Her father's family was poorly educated and quite poor. However during the communist period, her father was given the chance to study to become an engineer and her mother trained as a teacher. Delia's maternal grandmother told her of the family's Roma background, but advised her not to admit to being Roma. Some non-Roma in the community referred to them as "Gypsies."

When the family moved to Bucharest in 1976, they became assimilated and no longer spoke the Romani language. During the 1970s, many Jewish families moved to Israel and Roma moved into the former Jewish neighborhood. The dictator Ceauşescu demolished the neighbourhood in 1985 to make way for apartment blocks. "I was happy in the Mahala with my maternal grandmother. When we moved to the blocks I felt very depressed." When Delia entered high school, an excellent school with a focus on languages, the students believed she was Jewish. This carried negative connotations, but not as negative as being Roma.

Delia received high marks, but did not want to go on to university. She audited a class on Indian culture and language in which she studied Sanskrit without recognizing her Indian roots. The class piqued her interest in the Roma. She began a degree at the University of Bucharest in folklore and ethnology and graduated with an MA in 1994. Delia conducted research in both Romanian and Roma communities, and has come to believe that the Roma originated in India, but have been influenced by many other cultural roots such as the Byzantine and the Balkan.

Delia began learning Romanes at university from Romani language textbooks, but really picked up fluency while employed as a curator working with Roma craftspeople in the village museum of Bucharest in 1995. At that time Delia believed she was only Roma intellectual. She asked her boss for assistance. Cati Dulcu sent Delia to the Ministry of Culture to meet Vasile Ionescu. Delia told Mr. Ionescu, "I am a Gypsy and I want to research Gypsy culture and folklore." Mr. Ionescu replied, "We work only with the Rom, not with Gypsies." Delia's friend, Cristinela Ionescu explained her uncle's statement and helped Delia to gain entrance into the Roma movement at its inception. Delia impressed Vasile Ionescu with her dedication. She volunteered with Aven Rromentza for ten years. "Vasile's vision was to cultivate identity and promote self esteem, to celebrate Roma culture rather than to promote integration."

Delia developed a Ph.D. thesis on cultural practices among Kalderashi Roma of Sintesţi, Ilfov County because she saw them as 'real Roma.' Amazed, she discovered some of the same practices in her own family. She had great difficult finding a supervisor for her thesis; only a researcher, Radu Octavian Maier, would agree. Delia wrote an 'Ethnotype.' Some of the practices she describes are archaic to the modern Roma particularly in urban environments. Ms. Grigore sees the ethnotype as "a point of reference. Of course traditional culture is not fixed, but we need the reference point." She argues that practices viewed as negative by the wider society, should be discussed, but not treated as barbaric customs. Delia Grigore received her Ph.D. in 2004.

Delia is a founding member, and current President of, the NGO, Amare Rromentza. Since its creation in 2000, Amare Rromentza, has focused on historical research, although money for such has not been forthcoming from the Romanian government. Delia and her colleagues have collected oral histories from the survivors of the Roma Holocaust, those who were deported to Transnistria and placed in camps. Sadly the Romanian National Museum for the Holocaust continues to overlook the Roma Holocaust. A recent conference sponsored by the Holocaust Museum in Washington D.C attempted to broaden the topic to include the Roma, but the dates for the conference were not widely advertised and the local Romanian Commission rejected many of the researchers on the Roma Holocaust.

Similar difficulties occur in attempting to research the five hundred years of Roma slavery in Romania. "Archival research is missing." In February 2016, the Roma Initiative Office of the Open Society Institute opened five scholarship positions for research on slavery. The National Centre for Roma Culture is establishing a database to document and transcribe data found in archival records. "The most complete archives are found in the monasteries because Roma slaves were held by the Orthodox Church as well as by the Boyars, that is ruling families." Delia Grigore was on the panel, which chose the five researchers for this pivotal endeavor.

In November, 2015 Delia Grigore founded the Democratic Roma Federation, composed of several groups including: Partida Romilor, Amare Rromentza, Sastipen, Romano Butiq, Centrul pentru Educatie si Drepturile Omului, and Agentia Impreuna. Their goals are to reform the Roma movement from the ground up and build an ethnically responsible Roma elite; bring back militancy and human rights to the Roma movement. First step, "Recognize your culture and admit your Roma identity."